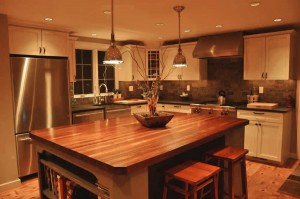 Wood is a natural living material, sophisticated and elegant. When combined with its warm characteristics, wood opens an abundance of design options in countertops nowadays. Despite the elegance and versatility wood offers, many homeowners are apprehensive regarding the maintenance and care. That said, no matter what kitchen countertop style you find appealing, you will want to consider maintenance and durability before making a decision.
Why you need a wood countertop?
The wooden top is the natural complement of any veneered cabinetry or solid wood. The wooden tops will wonderfully go together with moldings, cornices and hardwood floorings, offering a genuine sense of balance to your kitchen. If properly installed and sealed, a wooden countertop can last almost a lifetime. Unlike granite or marble, a wooden counter has a great shock absorbing capacity that further assures its considerable life span. For a fairly long time, the laminate and plastic surfaces were considered much safer than wood for tasks like slicing vegetables or chopping meat. However, it has been proven by the microbiologists of the Food Research Institute that wood possesses strong antibacterial properties, that no other cutting surface appears to possess.
Basic maintenance on a regular basis
In most cases, all that's needed is a damp, clean, nonabrasive cotton cloth and a household cleaner or mild liquid detergent. A vegetable brush or nylon bristled hand can be used, especially if you own dimensional finish laminates. As wood countertops are kind of gentle, do not flood your countertop. Scouring pads and abrasive cleaners should not be used. As for daily use, do not place hot containers or warm pots directly on the surface. Rather use a pot holder or trivet.
Tips for long lasting wood countertops
Wood counters are beautiful, but they require regular care if you want to keep them looking their best for many years to come. In order to keep your counters long lasting, wash your countertops immediately after using. It is especially important to wash a countertop when it comes to moisture containing spills, stains and scraps. Even more, if you want to keep your countertop shiny and sturdy, use mineral oil. Apply mineral oil once a month. Use only high quality mineral oil as it is food safe and will not turn rancid like some cooking oils. In addition, when using vinegar make sure to not spill it over the countertop as it is acidic enough to dissolve the glue holding the wood in place.
How to choose a best wood countertop?
As first-time buyers may not have an easy time making up their minds about what wood countertop to buy, here are some tips discussed. In the first place, consider investing in a countertop that is not only practical to use, but also eye-catching and elegant. In addition, consider the edging style that your wood countertop will have. Most wood countertops have a rounded edge, but you may prefer a straight edge which is compatible with any design. Finally, last but not least, consider that you may be in need of getting a new sink and faucet that will match your countertop.